D-Line Cable Tidy Tube - 1100mm Length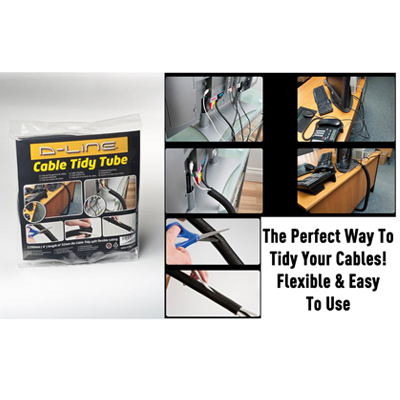 1100mm Length - 32mm Wide
Flexible Pre-Split Tube
Perfect for Tidying Cables
Perfect when used with D-Line Cable Tidy Box
Cable Tidy Tube
D-Line Cable Tidy Tube is the perfect way to hide cables and wires that drop for example behind TV's or computer desks. The tube is 1.1m long (3 feet 7 Inches) so can easily cover the drop from popular desk heights down to floors. The Cable Tidy Tube can be shortened with scissors.
Being made from ultra flexible LDPE material, the pre-split tubing has an overall 32mm diameter to simply accommodate a cluster of cables – cables can be easily inserted by hand using the split seam.
Compared to traditional spiral wrap alternatives there is no need for application tools to insert the cables, and similarly to remove cables no tool is required.
Follow @TPS_UK